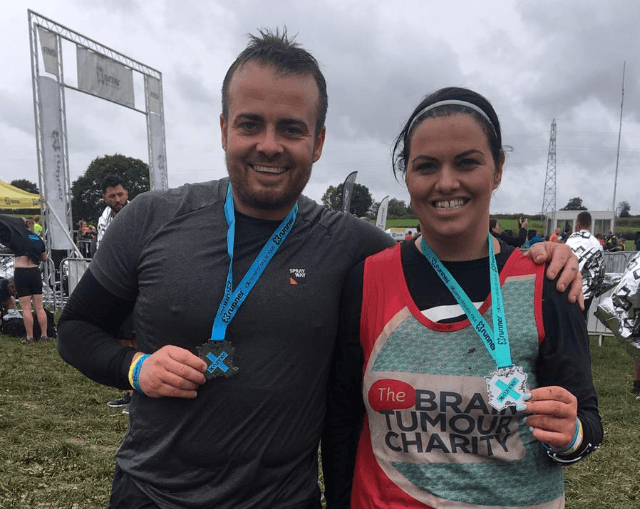 An assistant site manager at AC Lloyd has completed an obstacle race and muddy run with his wife to take their family's fundraising total to over £6,000 for The Brain Tumour Charity.
Steve and Helen Piper signed up to the Wild Warrior 2018 in memory of Helen's mom, Janet Roche, who died in March last year following an eight-month battle with brain cancer.
The couple set a fundraising target of £1,000 and reached £1,145 thanks to the generosity of their family, friends and Steve's work colleagues at AC Lloyd.
Steve, who works at AC Lloyd's Oakley Grove development in Leamington, said completing the Wild Warrior had taken the family's fundraising activities to over £6,000 for The Brain Tumour Charity.
"My mother-in-law was a wonderful woman who spent the vast majority of her life caring for those who were suffering and needed help the most, so it felt only right that we gave something back to this wonderful charity," said Steve, who lives with Helen and their two children, Harriet (four) and Jacob (one), in Sutton Coldfield.
"My in-laws had lived in Spain for five years until Helen's mom collapsed and was rushed to hospital whereby she was shortly diagnosed with a malignant brain tumour namely a Glioblastoma Multiforme High Grade.
"Janet had a short course of radiotherapy in Spain before returning to the UK for end-of-life care.
"It was a really tough time and made more difficult by the fact Helen was nearly nine months pregnant with our second child at her mom's funeral.
"We both wanted to fundraise for The Brain Tumour Charity since not as much money is spent on researching this form of cancer.
"Helen's brother, Lee, completed a sky dive and Helen has taken part in a couple of 5km mud runs with friends but the Wild Warrior was a bit different and we enjoyed the obstacle race even though it was very muddy and raining."
Steve added: "I have only been working at AC Lloyd for 12 months which is a relatively short space of time and I was overwhelmed by the generosity of my colleagues in supporting our fundraising."
Alistair Clark, a director at AC Lloyd, said: "We pride ourselves on creating relationships and partnerships with our colleagues and everyone we work with, and we were pleased to support Steve and Helen to raise funds for a cause which is close to their hearts.
"They have raised a fantastic amount for an amazing charity and we wish the family well in their determination to raise money to help find a cure for this terrible disease."
There is still time to add a donation by visiting   https://www.justgiving.com/fundraising/helen-piper5
Caption: Steve and Helen Piper with their Wild Warrior medals