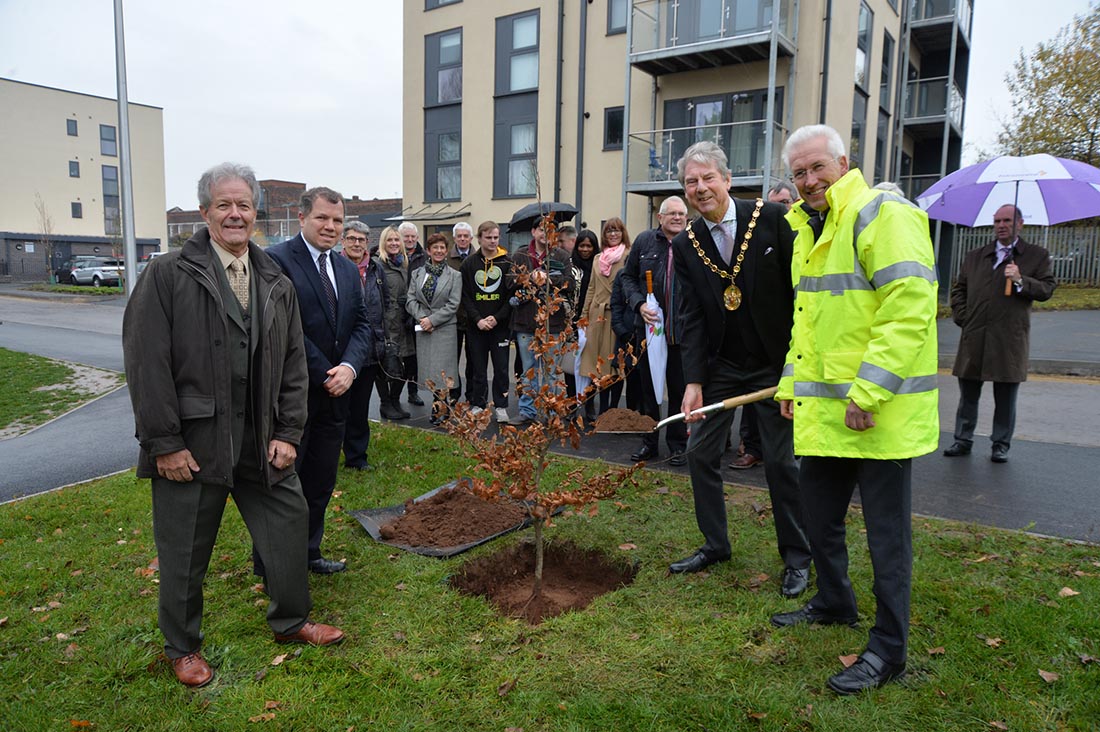 Residents helped celebrate the completion of the first 24 new homes at Sayer Close, as part of the 212 new home development off Station Approach, Leamington Spa, by planting a tree into the landscaped area.
Historically the site has been used for industrial purposes by Network Rail, Stagecoach, Car Sales and car park. After numerous attempts over the last 10 years to redevelop this part of Town, Waterloo Housing together with its partners, Warwick District Council and  A.C. Lloyd, have successfully delivered phase 1 of the 4 phases completing this development.  The work also involved the relocation of the Stagecoach bus depot to Trident Park.
The properties on phase 1 are all affordable rented homes.
However, the whole site will be a mixture of properties for Shared Ownership (part buy, part rent) affordable rented homes and outright sale.
The total development costs for the whole scheme is £35m, with phase 1 costing £5.1m.  Additional funds which were invaluable in enabling this development to come to fruition, came from Warwick District Council and Homes England.  
Councillor Peter Phillips, Portfolio Holder for Housing Services, Warwick District Council said "It has always been this Council's ambition to regenerate the area around Leamington railway station, and I am pleased that this part of Leamington is now providing vital housing, of which 75% are affordable. We now have a vastly improved gateway to the town and a development to be proud of."
Anthony Riley from Waterloo Housing Group said "We are so pleased with the new homes at Sayer Close.  It's an excellent outcome for such a scheme to be built in the area.  It is close to the town centre, meeting the demands of local people who either need rented homes or who want to take that first step on the ladder into Shared Ownership.  Our work with our local partner A.C. Lloyd and Warwick District Council clearly demonstrates how a proactive partnership approach can meet the shortfall of this type of housing in the area – long may it continue on other sites in the district".
Alistair Clark, Managing Director from A.C. Lloyd commented "It was a pleasure to build these homes at Sayer Close, for Waterloo Housing, and we look forward to delivering the rest of the new homes on this development during 2019".