It's a case of "House-That" for a new housing development which is proving a big hit with families moving to a village near Leamington.
Property development and investment company AC Lloyd has been bowled over as the first phase of seven homes at The Cricketers at Radford Semele has been sold in just three weeks.
The Warwick-based business is following on by releasing a further seven homes in September.
The cricketing theme continues with the names of the two, three, four and five bedroom properties which include The Grace in honour of W.G. Grace who is considered to be one of the greatest players in the history of the sport.
There is The Compton named after one of England's most famous batsmen, Denis Compton CBE, who played 78 Test matches and scored over 100 centuries in first-class cricket as well as playing football for Arsenal.
There is also The Trueman in memory of Yorkshire and English paceman Fred Trueman OBE who became the first bowler to take 300 wickets in a Test career and The Bosanquet named after Bernard Bosanquet who invented the googly and transformed the art of spin bowling.
Alistair Clark, Managing Director of AC Lloyd Homes, said the development had been built on land which at the beginning of 20th century had been used to play cricket. The pitch with a pavilion appears on the 1892–1914 maps but had disappeared from the maps in 1937.
"Naming a housing development can sometimes be tricky but the fact we were building homes next to a former cricket pitch gave us the inspiration we needed in Radford Semele," he said.
"The homes are named after some of the most illustrious players to have worn the whites of the sport throughout its history and for cricket lovers they will need no introduction.
"It is a great location near Leamington and following lockdown and the introduction of the stamp duty holiday, there has been a definite upsurge from families wanting to move.
"There has been a great deal of interest in all our sites across Warwickshire and The Cricketers has certainly caught the imagination of purchasers wanting a combination of a high-quality property and village life.
"Anyone interested should call our sales team on 07867 620501. All visits to show homes are on an appointment-only basis as we follow the Covid-19 protocols."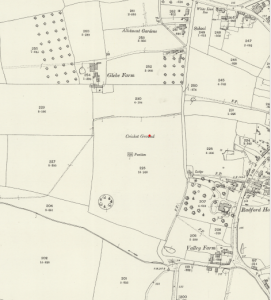 The cricket pitch shown in 1894–1914 maps but gone in 1937 maps