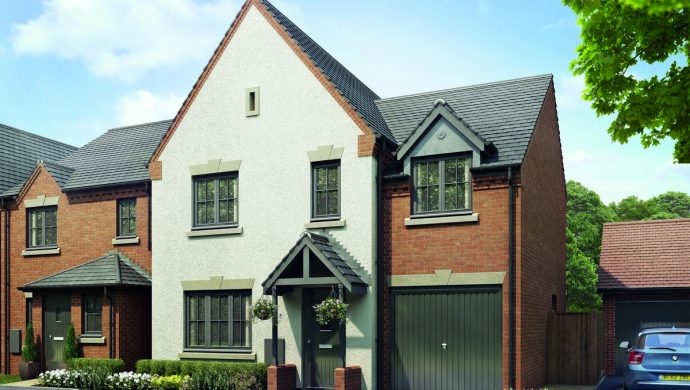 Gone are the days when first time buyers had to settle for mediocre house designs in a less than appealing neighbourhood. Now, they can expect spacious layouts, luxury finishes and a picture-perfect street thanks to A.C. Lloyd's new housing development near Leamington Spa.
Located off Harbury Lane in Bishop's Tachbrook, the Holt design at Oakley Grove is proving especially popular with first time buyers. As standard, the three bedroom, semi-detached house includes French doors leading to the garden from both the open plan kitchen/diner and the large living room, as well as a contemporary en suite and built in wardrobes in the master bedroom.
What's more, the Holt property is available to buy under the government's Help to BuyThe government will give you an equity loan of up to 20% of the property's listed value. You will need to save a 5% deposit and secure a 75% mortgage from a participating lender. By using this scheme, you could find that getting a mortgage is both easier and cheaper. scheme, meaning purchasers need to pay just 80% of the listed price – made up of a 5% depositYour initial contribution towards the purchase of your new home. and 75% mortgage – as the government will cover the remaining amount with a 20% equity loan. That means that when buying the Holt, which is priced from £345,000, purchasers will only need to obtain a mortgage of £258,750 and a £17,250 deposit.
Anybody wanting to find out more can make an appointment to view the new homes at Oakley Grove by calling 01926 458 905, or visit the marketing suite on Harbury Lane which is open Saturday and Sunday from 10am to 5pm and by appointment from Monday to Friday. More information can also be found at aclloyd.com or via the A.C. Lloyd Facebook and Twitter pages (/A.C. LloydHomes and @ACLloydhomes).