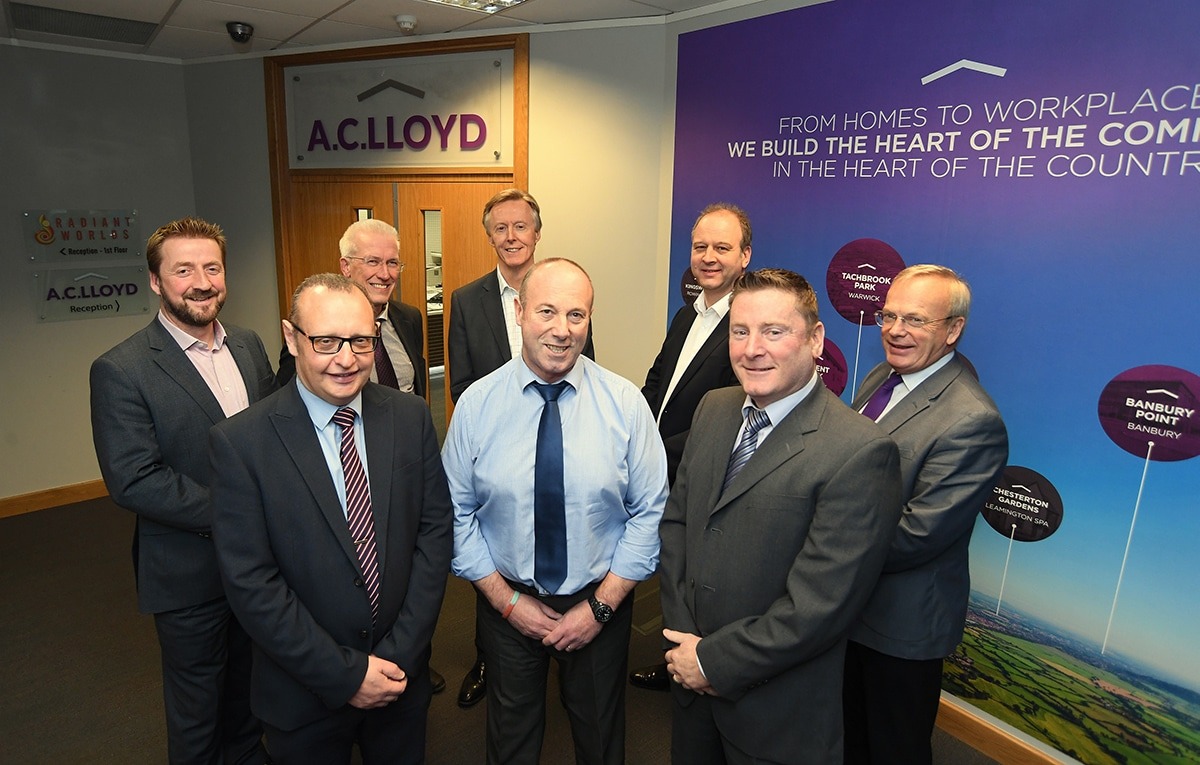 A Midlands property company has appointed four new directors following the continuing success of its residential and commercial departments.
AC Lloyd, whose headquarters are at Tachbrook Park in Warwick, has promoted three key personnel in AC Lloyd Homes and one in AC Lloyd Holdings in the company's 70th anniversary year.
David Henley, aged 58, joined the business 30 years ago as a Site Manager. He was promoted to Contracts Manager 10 years later and now has achieved the role of Construction Director.
Darrenn Meredith, aged 52, was appointed a Quantity Surveyor at AC Lloyd in 1992. After progressing through the ranks as a Senior Quantity Surveyor and Group Surveyor, he is now promoted to Surveying Director.
Forty-four-year-old Darren Avern became part of AC Lloyd's team 20 years ago as an Assistant Engineer. After gaining promotion to Engineer and then Senior Engineer and his expertise in all technical issues, he was the ideal candidate to become Technical Director.
Mark Edwards, aged 49, joined AC Lloyd as a consultant last March after being Managing Director at Gallagher Estates for 15 years. He has now been appointed a Director of AC Lloyd Holdings.
Current Directors Alistair Clark and Des Wynne become Managing Directors of AC Lloyd Homes and AC Lloyd Holdings respectively.
Peter Beddoes, chairman of the AC Lloyd group, said: "These four new positions underline the business's commitment to rewarding existing staff for their dedication and skill over a long period.
"AC Lloyd Homes is busy creating homes at our Oakley Grove, Chesterton Gardens and Station Approach developments in Leamington and Hillside Views at Napton on the Hill. David, Darrenn and Darren form a great managerial team to ensure that the properties are constructed to our usual high standard and on time.
"Mark has been working with Des to expand our commercial property and investment portfolios as well as seek new development opportunities and his appointment as a Director of AC Lloyd Holdings emphasises our commitment to expanding this area of the business.
"We completed a re-brand of our business last year to reflect our position as a leading property company in the area which prides itself on our quality customer service and high-quality homes and commercial developments.
"This looks set to be a landmark year in our 70th anniversary and starting 2018 with these appointments highlights our determination to take the company further forward."
Caption: Back from the left, Mark Edwards, Alistair Clark, Des Wynne, Hans Skeat, Peter Beddoes. Front, Darren Avern, David Henley and Darrenn Meredith from AC Lloyd