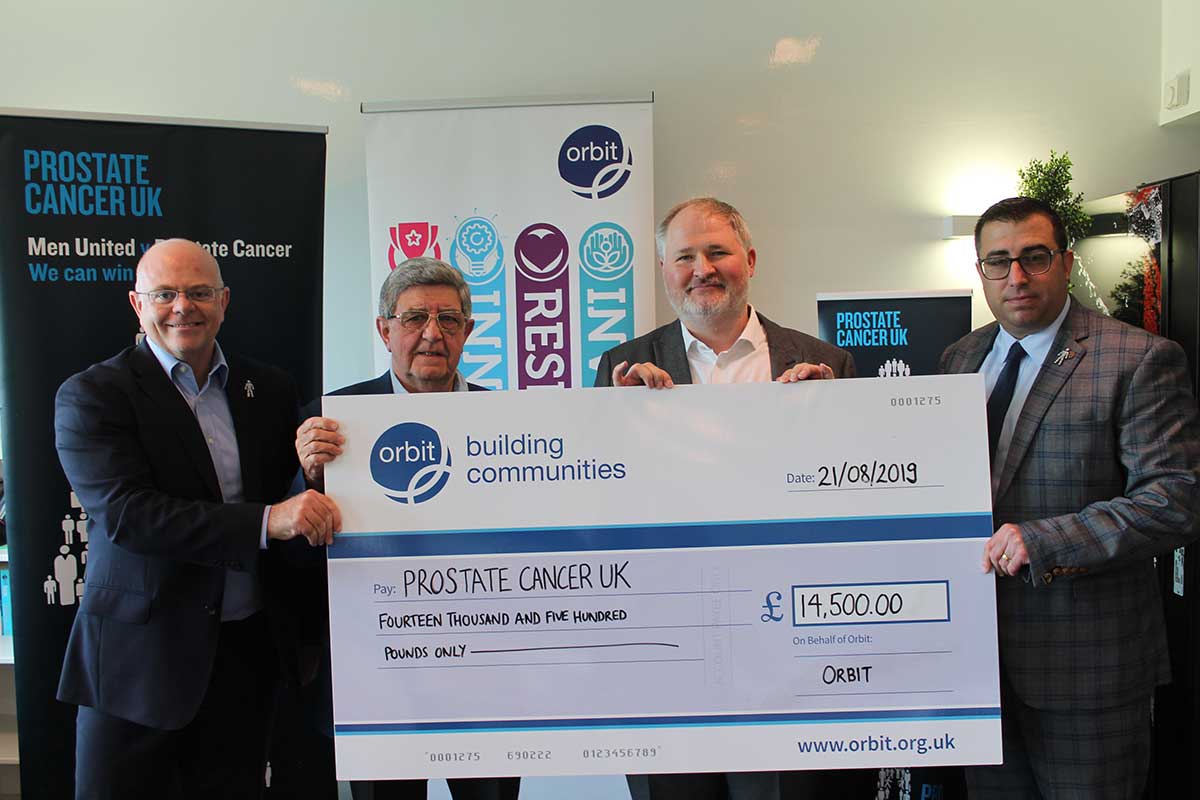 Charity golfers from Orbit took a swing at cancer by raising thousands of pounds for a national charity in just one day.
Prostate Cancer UK is now £14,500 better off thanks to Orbit's Midlands Development Team annual charity golf day.
This is the eighth event organised by the team, making its charity total £180,500. Every year a different charity is selected and this year's beneficiary was Prostate Cancer UK.
Mark Hoyland, Orbit's chief executive, and Andrew McDermott, regional managing director for Orbit in the Midlands, presented the cheque at Orbit's Garden Court offices in Coventry.
Mark said: "I am delighted to present this generous donation of £14,500 to Prostate Cancer UK. Over the last eight years this popular event has raised £180,000 for our chosen charities and I would like to offer special thanks to all of our sponsors and participants who continue to make it such a resounding success."
Peter Woodward from Prostate Cancer UK added:  "We are absolutely delighted with the amount raised from this event. Prostate Cancer is the most common cancer in men and in the UK one in eight men will get prostate cancer at some point in their lives. The money raised from events like this will go a long way to help with our research, awareness and support services so we are very grateful to Orbit for this donation."
Alistair Clark, managing director at Warwick-based AC Lloyd Homes, said: "We pride ourselves on supporting our local community and it was a pleasure to be involved once again in Orbit's annual golf day in the Midlands. It was a great opportunity to raise money for such a worthwhile cause and we look forward to being involved in next year's event."
Held at Warwickshire Golf Club in Leek Wootton on the 4th July 2019, around 150 golfers took part and a fundraising raffle was also organised on the day.
Event sponsors were Orbit, Zebra Architects, After Build, Dave the Dog Communications, United Living, AJ Associates, Owl Homes, John Lester Partnerships and Clarkeprint Ltd.
Caption: Orbit's £14,500 donation: Orbit's Chief Executive, Mark Hoyland, with Peter Woodward from Prostate Cancer UK, Michael Pickston from Unite Living and Chris Loizoi from Owl Homes.