In this Q&A with Ed Bromwich, managing director of ehB Residential in Leamington and Warwick, we discuss the housing market in Warwickshire which remains buoyant despite Covid-19
Q: This has been a year to remember for many reasons but with regards to buying and selling properties, what are the current market conditions in the Leamington area?
A: Ever since the first national lockdown in March, the market has remained on an upward trajectory.
We had had an impressive number of enquiries across the wide range of price brackets and different types of housing and, in fact, in August and October, we had our best months for sales.
I think that was because during the first lockdown, homeowners either improved their properties with DIY projects or decided that they wanted to move home because they wanted a garden or another bedroom to use as an office since more people are now working from home.
Q: How long has eHB and AC Lloyd worked together?
A: It has been over 30 years! We have a very strong relationship which originated through my father, Peter, who is now retired, and AC Lloyd chairman Gordon Nicholls, who sadly died in 2013.
We have built great relationships with all AC Lloyd's staff at their various sites and their head office in Warwick and that has been particularly important this year due to the Coronavirus pandemic.
Q: Could you outline the current projects eHB is involved in with AC Lloyd?
A: We are acting as a lead generator on a number of AC Lloyd's sites throughout Warwickshire and the fact that the properties they are building are diverse, spells good news for both businesses since we can appeal to different types of potential homeowners.
The high-end homes at Kingswood Place in Lapworth have nearly all been sold, there were 30 two-and-three bedroom homes at Victoria Point in Leamington which sold quickly and we are excited about the launch of the 22 apartments overlooking Victoria Park. We also have just released for sale at the Cricketers in Radford Semele which we think will attract people wanting a more village-style type of living.
Q: Could you give an update on the success of the Help to BuyThe government will give you an equity loan of up to 20% of the property's listed value. You will need to save a 5% deposit and secure a 75% mortgage from a participating lender. By using this scheme, you could find that getting a mortgage is both easier and cheaper. scheme?
A: Well, anyone wanting to take advantage of the Government's Help to Buy scheme needs to act quickly!
Reservations and applications need to be completed by December 15 which doesn't leave much time but it is definitely worth pursuing because of its benefits.
The current Help to Buy scheme enables existing and first-time buyers to buy a property with a five per cent depositYour initial contribution towards the purchase of your new home. along with a further Government-backed loan of up to 20 per cent which is interest free for five years.
To benefit, properties need to have been built by the end of February next year and legally completed by March 31, 2021.
AC Lloyd has had a 75 per centage uptake of people who are seizing their opportunity under the Home to Buy scheme.
So, I would urge anyone interested in buying a property via the Help to Buy scheme not to delay in making sure their paperwork is completed correctly and filed before the December 15 deadline.
Q: From your anecdotal evidence, what are the concerns for first-time buyers with constraints over lending and Loan-to-Value?
A: From April 2021, the new Help to Buy scheme in England will be only for first-time buyers and will be restricted to regional maximum purchase prices – which will be capped at £255,600 in this area.
But there is financial help and support available through independent financial advisors so make sure you always seek expert advice.
Q: Which AC Lloyd development is currently attracting the most interest?
A: The two and three-bedroom apartments at Victoria Point in Leamington which is not a surprise.
Their location means they are within walking distance of all the great amenities in the town centre and the railway station which is a big plus for commuters to Birmingham and London and they provide great views overlooking Victoria Park as well as having their own looked after garden. An outdoor gym is also going to be built in Victoria Park which in today's world is another plus point.
The stylish apartments have a high finish and specification and meet all the current safety regulations. They also offer two parking spaces, peppercorn ground rent and 999 years leasehold.
It is a quality development which, without the assistance packages, may well be beyond the budget of some people looking for a home in the town, but Help To Buy opens it up to them, and I would urge more people to take advantage before time runs out because it fits the current criteria.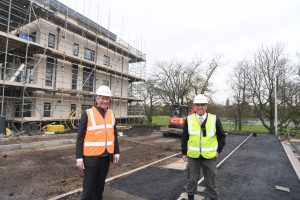 Ed Bromwich from eHB (left) with Site Manager Steve Lydall