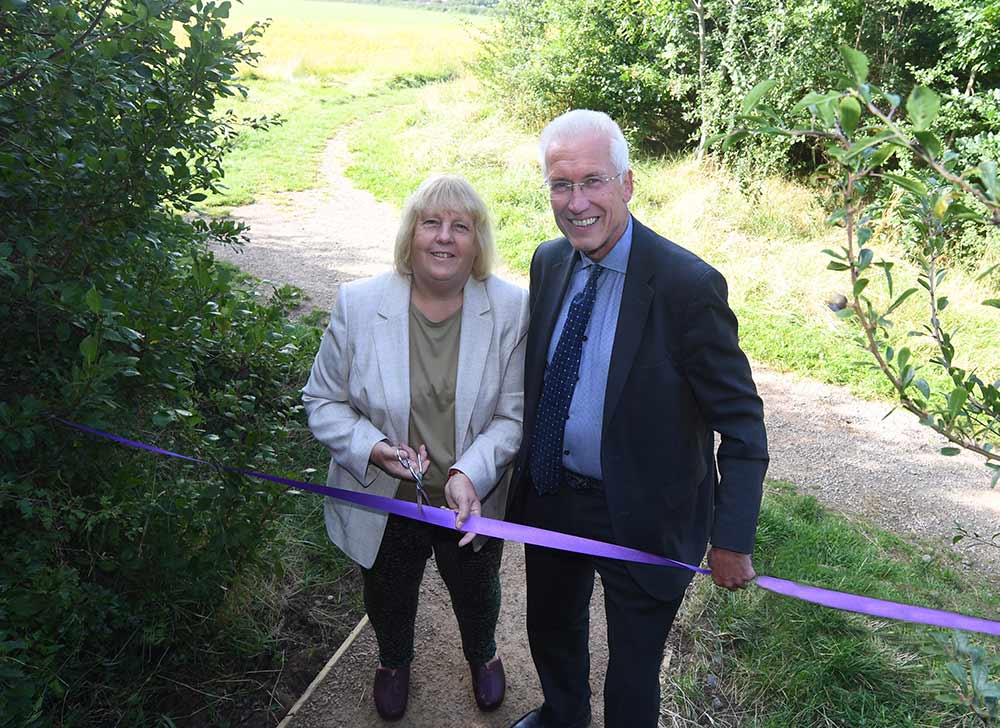 Part of a new footpath has been created in Whitnash by a leading property development and investment company – to make the wishes of the local community come true.
Cllr Judith Falp, who represents Whitnash on Warwick District Council, has worked with the District Council to adopt South Farm Footpath off Anderson Drive.
Once the legal paperwork was completed, she liaised with Warwick-based AC Lloyd Commercial, who built the first part of the housing development in the 1980s, to construct part of a permanent community pathway to reach land which backs on to Harbury Lane playing fields.
Staff from AC Lloyd have cut back the undergrowth and laid gravel and edging to create the footpath.
Cllr Falp said this was a much-trodden path by residents walking their dogs, jogging, taking a stroll or heading to play football or cricket at Harbury Lane.
"People who live in this area previously used to walk across the front gardens and had to push back the undergrowth to reach the playing fields and during bad weather, it was a mud track," she said.
"The community asked if a link could be created which could be maintained and if the trees could be cut away because it is a well-used route to the playing fields.
"I approached AC Lloyd and on the understanding that Warwick District Council would adopt the maintenance of the footpath and hedgerow, they were only too happy to help.
"I am really pleased with the finished result which has come about through collaboration with the District Council and AC Lloyd.  It's a great asset on our doorstep for the residents of Whitnash."
Alistair Clark, managing director of AC Lloyd Homes, which is based at Tachbrook Park in Warwick, said "There was an obvious desire line for people looking to access the playing fields and we were only too pleased to construct a permanent footpath which the community are delighted with.
"There is now a long-lasting surface with gravel on the top for residents to walk and run on to link the houses to the playing fields rather than going a long way round or traipsing through mud which will be particularly beneficial when winter arrives.
"Many thanks to Cllr Falp for her hard work and persistence in reaching an agreement with the District Council."
Caption: Cllr Judith Falp with Alistair Clark from AC Lloyd Homes